Product Description
Specifications:                         
| | |
| --- | --- |
| Product Name | HSG Series Hydraulic Cylinder |
| Work Press | 7/14/16/21/31.5MPa     37.5/63MPa Can be Customized |
| Material | Aluminum, Cast Iron,45mnb Steel, Stainless Steel |
| Bore Size | 40mm–320mm, Customizable |
| Shaft Diameter | 20mm–220mm, Customizable |
| Stroke Length | 30mm–14100mm, Customizable |
| Rod Surface Hardness | HRC48-54 |
| Operating Temperature | -40°C to +120 °C |
| Paint Color | Black, Yellow, Blue, Brown, Customizable |
| Service | OEM&ODM |
| Warranty | 1 Year |
| MOQ | 1 Piece |
| Delivery Time | 7-15 Days, Also depending on specific demands |
| Certification | ISO9001,CE |
| Capacity | 50,000Pcs per year |
Product Display:                     
Mounting:   
Working Flow: About Us   
Tongte designs and manufactures durable, heavy-duty hydraulic products and accessories and offers lifecycle services to them. We constantly develop our machine base and operations to meet customer-specific needs and remain leaders in the industry. Beyond all else, we want to be the trusted, groundbreaking partner our customers truly need.
In addition to the customized cylinders, Tongke offers hydraulic power units, Electric-Hydraulic linear actuators, piston accumulators, system configurations, and versatile services such as repair and manufacturing services. The modern production facilities are located in HangZhou, ZheJiang (China) where production started in 2001. The core values of Tongke guiding its business strongly are commitment, sustainability, interaction, and customer-first.
We possess over 20 years of experience in the industry and extensive global market experience, our customers are located all over the world, and we truly commit to the customers' needs – these are the success factors of our family-owned company. Our vision is to grow and expand the business further into global markets.
FAQ:                          
Q1: What does your company do?
A: we are a supplier of high-quality hydraulic products including Hydraulic Cylinders, Hydraulic Power packs, Hydraulic Linear, and other Hydraulic components.
Q2:Are you a manufacturer or trading company?
A: We are a manufacturer.
Q3:Are you CZPT to make Non-standard or customized products?
A: Yes, we can.
Q3: How long is your delivery time?
A: Normally, the delivery time is 7 days if we have stock, and 15-30 working days if we don't. but it
also depends on the product
requirements and quantity.
Q4: Do you provide samples? are the samples free or not?
A: Yes, we can provide samples, but they are not free of charge.
Q5: What are your payment terms?
A: 30% deposit T/T or Irrevocable L/C at sight, If you have any questions, please feel free to
contact us.
Q6: What is your warranty policy?
A: All our products are warranted for 1 full year from the date of delivery against defects in materials and workmanship. Each individual product will be strictly inspected on our factory QC Process
System before shipment. We also have a Customer Service team to respond to customers' questions within 12 hours. 
| | |
| --- | --- |
| Certification: | ISO9001 |
| Pressure: | High Pressure |
| Work Temperature: | Normal Temperature |
| Acting Way: | Double Acting |
| Working Method: | Straight Trip |
| Adjusted Form: | Regulated Type |
Customization:

Available

|

Customized Request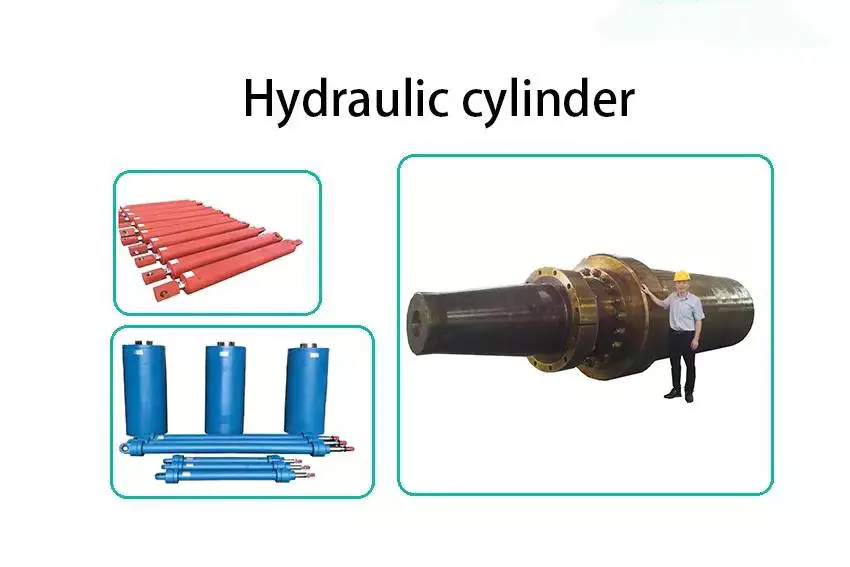 Hydraulic Cylinders
Basically, hydraulic cylinders are mechanical actuators that are used for giving unidirectional force. These cylinders are used for many different applications, such as manufacturing machinery, elevators, construction equipment, and more.
Piston seals
Choosing the right piston seals for hydraulic cylinders can help ensure proper operation of the system. The seals help to prevent leakage of fluid. They also protect the internal parts of the cylinder from damage.
The seals can also help to maintain the pressure of the fluid inside the cylinder. There are many different seals that are available. Choosing the right one for your system requires a consideration of several factors. The type of system used will depend on the type of application, as well as the conditions and duty levels of the machine.
Seals can be either single-acting or double-acting. Single-acting seals move the piston in a single direction. Double-acting seals have the same sealing functions in both directions.
The seals can be made from different materials. Standard piston seals are made from polyurethane. PTFE seals are also a popular choice. They are less prone to friction and can handle higher temperatures. The durability of the seals depends on the quality of material used.
Seals also come in different designs. They can be made from a variety of materials, including plastic. Plastic materials have a higher temperature resistance, but are less flexible than rubber. They also have less tolerance for tearing. The material used for the seal must meet the chemical and mechanical property requirements.
The material used to make the piston seals is critical to its performance. PTFE seals are the most popular choice. They are highly resistant to abrasion, provide better elasticity, and maintain constant pressure for longer periods of time. They also have a low coefficient of friction. They are highly recommended for all hydraulic cylinders.
Seals can also be used to prevent fluid from flowing around the piston. Wiper seals, for example, are sometimes referred to as dust seals. They prevent contaminants from entering the cylinder.
Welded rod cylinders
Whether you are looking for a hydraulic cylinder to use on a vehicle or a piece of industrial equipment, there are a number of different options available. Some of these options include welded rod hydraulic cylinders, which are designed for use in harsh environments. Welded rod cylinders can also be custom-engineered to meet your specific needs.
These cylinders are a good option for a wide range of applications. They have a durable design that is ideal for industrial use, and they are usually easy to maintain. In addition, welded rod cylinders can be used in mobile equipment, as well.
When looking at hydraulic cylinders, it is important to know what type you are looking for. There are two main types: tie rod cylinders and welded rod cylinders. Each type has its own advantages and disadvantages.
Tie rod cylinders are a good option for easy maintenance, but they are not as durable as welded rod cylinders. They also require more installation space than welded rod cylinders. This is especially true if you are working with mobile equipment.
Welded rod hydraulic cylinders are more durable, and they are designed to withstand the stresses of extreme environments. They also have a higher duty cycle than tie rod cylinders, which makes them ideal for mobile equipment. In addition, they have longer internal bearing lengths, which helps to ensure a longer operating life.
Tie rod cylinders are generally cheaper to manufacture. They are NFPA-approved, and they can be easily disassembled to allow for service. They also have a higher installation space, but they are easier to maintain. They also work well in low pressure applications, and are suitable for industrial manufacturing applications with low pressure requirements.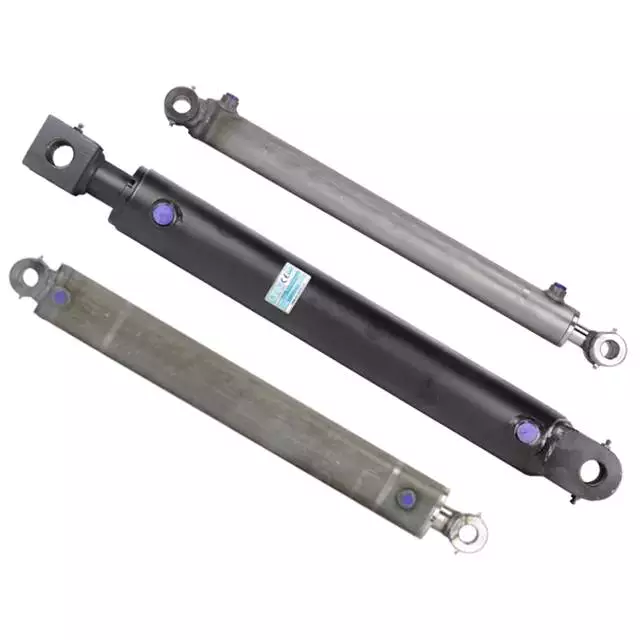 Double-acting cylinders
Unlike single acting hydraulic cylinders, double acting hydraulic cylinders can exert pressure on both sides of the piston. This allows them to perform more complex actions with less energy. This is especially useful for applications that require precise and controlled retraction.
Double acting hydraulic cylinders are also used in a variety of industrial and medical applications. They are especially useful in robotics, heavy-duty equipment, and mobile equipment. They can be used in the lift and press of merchandise from conveyor belts, as well as in excavators. They are also used in tow trucks.
They are more expensive than single acting hydraulic cylinders, but their performance is also greater. They are more rugged and work faster. They are also more efficient and offer more design options. They are also more likely to be ISO compliant.
Double acting hydraulic cylinders are typically used to control steering in excavators. They are also used to control the boom of a TLB. They are also used in mobile applications, such as a dump trailer hoist.
They are manufactured into a single acting or double acting model, depending on the application. They are also available in a number of different designs, including hollow plunger models.
They can also be fitted with sensors to improve stroke control. These sensors provide feedback to a controller and allow the piston to change its stroke in response to various conditions. This is especially useful in heavy mobile equipment, such as tow trucks.
They are also referred to as position sensing cylinders. They can detect the position of the piston and provide feedback to a controller, which can then adjust the stroke in order to match the precise function of the machine.
Surfaces of hydraulic cylinders are given special treatment
Several different surface treatments are used to improve the performance of hydraulic cylinders. Some of these treatments are performed externally while others are carried out internally.
Several of these treatments include the use of a coating. The purpose of this coating is to reduce wear and corrosion. In addition, manufacturers have developed alternative coatings to increase service life.
The most important mechanical properties include hardness, yield strength, and tensile strength. The coating will improve these properties and protect the cylinder from physical and chemical attacks.
The most significant benefit of using a coating is that it increases the ability to reduce wear. The same coating can also improve the frictional properties of a cylinder.
The use of a coating is also important for the prevention of leakage. The seal should be inspected periodically. Several types of coatings are used in the field of cylinders, including hard chrome plating, polymers, and iron alloys.
A single clevis with a spherical ball bearing is the ideal connection for a hydraulic cylinder. This connection allows a misalignment of the actuator. Ideally, the clevis and ball bearing will not transmit bending moments. In order to avoid this, mechanical stops should be used to limit retraction.
The clearance between a friction pair plays a significant role in hydraulic cylinder assembly. For optimum friction properties, the clearance should be no less than 25 mm. However, too much clearance can increase internal leakage.
To determine the appropriate friction coefficient, the equivalent flow method is used. In this method, the friction coefficient is equal to the ratio of the friction force to the normal force. The effect of roughness on frictional properties is also studied. The roughness is measured during the preparation of the substrate.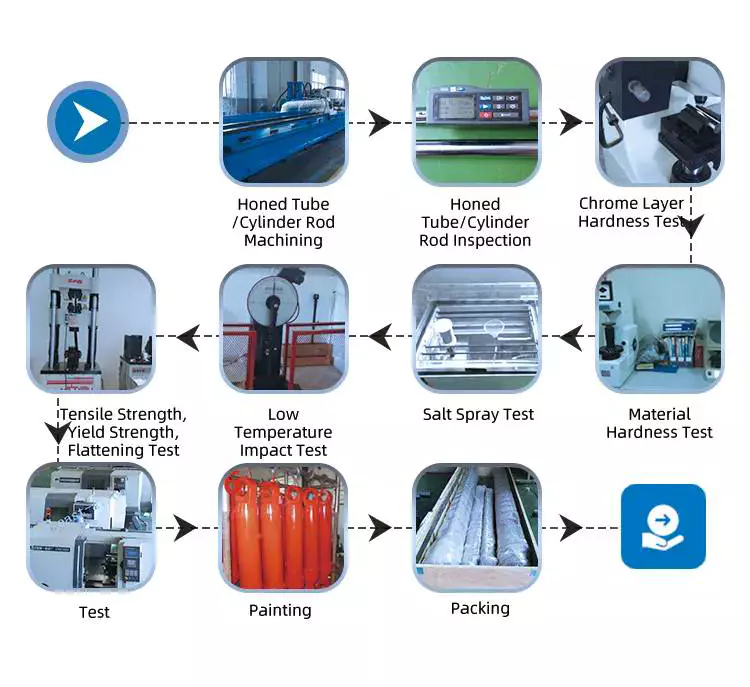 Common uses of hydraulic cylinders
Various industries use Hydraulic Cylinders in their processes. These devices are used in heavy machinery such as excavators, construction machines and agricultural equipment. They are also used in various transportation devices and equipment. They are also found in feeding devices, plastic forming machines and gate controls.
Hydraulic cylinders can be single or double acting. They can also be telescopic or plunger style cylinders. They are made up of a piston, rod end, base and head. Some common differences include the cylinder's wall thickness, material used, operating pressure and its method of connecting end caps.
Hydraulic cylinders are based on the principle of Pascal. In the mid 1800s, they were used for lifting on cranes. They were also used for controlling cannons in the military. They were also used in construction technology and mining.
The fluid inside the cylinder can be non-corrosive or corrosive. Generally, oil was used because it was resistant to evaporation. It also stayed cooler at high pressures. Hydraulic cylinders use less power and are much more efficient than other forms of the same device.
Hydraulic cylinders can also be used for food packaging. They have been used to achieve precision in packaging machines. Hydraulic cylinders are used for lifting, pressing, and other processes in agriculture. They are also used in spraying, seeders, conveyor belt systems and more.
Hydraulic cylinders are also used for material handling, transportation, construction, and industrial applications. They are used in various heavy machinery such as tractors, excavators, and skid steers. They are also used in forestry and manufacturing equipment.
Depending on the application, there are different types of hydraulic cylinders. These include single acting cylinders, double acting cylinders, telescopic cylinders, plunger cylinders, and welded body cylinders.




editor by CX 2023-04-21
Situation: New
Warranty: 1 12 months
Applicable Industries: Constructing Content Outlets, Manufacturing Plant, Machinery Repair Shops, Foodstuff & Beverage Manufacturing facility, Farms, Retail, China Manufacturing facility Trailer Axle Axel 20T with Trailer Rims Wheels trailer parts suppliers Development works , Energy & Mining
Weight (KG): one hundred
Online video outgoing-inspection: Presented
Equipment Test Report: Assist
Advertising Sort: Normal Item
Guarantee of core parts: 1 Yr
Main Components: seal kits
Normal or Nonstandard: Normal
Framework: Standard Cylinder
Electricity: Hydraulic, Hydraulic
Human body Materials: Metal, Steel
Merchandise identify: Excavator Cylinder
Software: Excavator
MOQ: 1 Established
Certificate: ISO9001
Bore dimension: 12/sixteen/20/twenty five/32/40/50/63/eighty/100mm
Functioning Pressure: 7Mpa~31.5Mpa
Sort: Arm Growth Bucket Cylinder
Content: 45# Steel
Excavator Bucket Growth Arm Cylinderone.Rod seal:outstanding high quality named-brand seals enhance a lengthier daily life and seal result polyurethane U-packing rod seals/buffer seals-bonded-to-steel wiper seals personalized seals available2.Skived&burnished or vertical honing tube assures the concentricity and straightness3.Bushing:Hardened metal bushing or copper bushing4.Eye:All eyes are manufactured of cast higher strength metal enhance cylinder not only in physical appearance but in mechanical performance5.Rod:Induction hardened prior to chrome plating boosts the surface area hardness,increased chrome plating increase corrosion resistence and anti-scratch performance6.Piston:Large pressure piston sealing content teflon or nylon seals.High precision machining maximize the regularity of areas.
| | |
| --- | --- |
| Product Title | Excavator Hydraulic Cylinder |
| Work Push | 7/14/16/21/31.5/37.5/63MPa, SBR16 300mm 700mm 1100mm + C7 ballscrew sets SFU1605 350mm 750mm 1150mm + BKBF12 For CNC SBR16UU SBR sixteen linear guidebook Rail 6 established Personalized |
| Material | Aluminum,Forged Iron,45# Metal,Stainless Steel |
| Bore Size | 40mm–320mm,Customizable |
| Shaft Diameter | 20mm–220mm,Customizable |
| Stroke Duration | 30mm–14100mm, CNC equipment tool linear guidebook rail bellows go over telescopic include stainless steel bellows protect Customizable |
| Delivery Time | 7-10 operate days |
Buying Guide For Hydraulic Cylinders
Whether you are looking to replace a broken hydraulic cylinder or are interested in learning more about them, you will be glad to know that there are many options to choose from. The materials used to build cylinders, their stroke lengths and seals are just a few things to consider.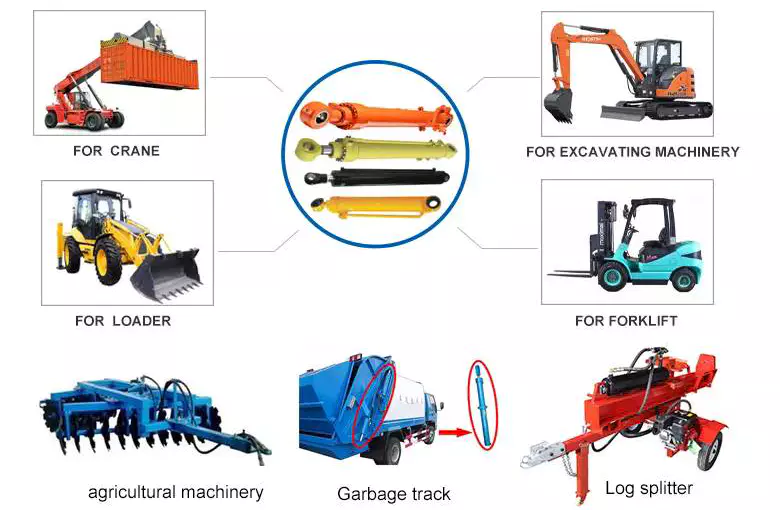 'Parallel' vs 'Series' cylinders
Choosing a hydraulic cylinder that is a good fit for your application is important. In general, there are two types of hydraulic cylinders: single-rod and tandem. In tandem cylinders, the two cylinders move in unison. This is the best way to transfer energy.
A welded body hydraulic cylinder is the most common type of hydraulic cylinder. It is used in construction equipment and other heavy industries. The cylinder body is welded in place and the base end is welded to it. It is normally rated for higher pressures.
A welded body hydraulic cylinder also has a built-in directional control valve. This valve works on both the inlet and the work ports. The oil from the pump goes through the control valves in series. This type of control valve usually has a small orifice drilled into it. It creates a pressure differential that forces the cylinders to work in unison.
Another type of hydraulic cylinder is the tie rod cylinder. It has a barrel and piston rod that is mounted on the bottom of the barrel. The piston rod operates both inside the barrel and out of the barrel.
There are many other types of hydraulic cylinders. Some of the more common include the plunger type, the tie rod type, and the single rod type. There are also many other types of cylinders, but they all have one thing in common: they use hydraulic fluid to power the piston.
The best hydraulic cylinder is one that can lift its weight. It is also important to select the best size for your application. The size of the cylinder depends on the load you intend to lift. If the loads are too large, you may have a difficult time maintaining synchronization. However, if the loads are not too heavy, you may be able to achieve the desired performance.
The hydraulic series relationship is a good place to start. If the loads are evenly distributed, the cylinders will work in unison. The flow control valves are a good way to keep cylinders in sync. A pilot-operated check valve is a good choice, as it will stop oil transfer when the mid-stroke is stopped.
Stroke lengths
Regardless of whether you're buying a hydraulic cylinder for a small engine or a large excavator, the following guide can help you determine the optimal stroke length. The length is measured in inches. This is a standard measurement and is easy to obtain. The stroke is the distance covered by the rod and piston between the fully extended height and the fully retracted height of the cylinder.
The cylinder's stroke can be measured in one of three ways. It can be based on the diameter of the rod, the diameter of the bore, or the difference between the maximum extended length and the minimum extended length. The cylinder's stroke can range from a fraction of an inch to several feet. The stroke is a good indicator of the length of pull that can be exerted from the piston.
The largest part of the hydraulic cylinder is the rod. It is a round chrome-plated steel bar that performs the reciprocating motion. The diameter of the rod ranges from a few inches to twenty inches. It is referred to as the shiny part of the cylinder.
The retracted length is the distance between the centers of the mounting pins when the cylinder is closed. It is a standard measurement and can be measured with a tape measure. The retracted length is important for the proper functioning of the cylinder.
Using the retracted length, calculate the cylinder's stroke. The stroke is the distance covered by the piston and rod between the fully extended height and the fully shortened height of the cylinder. This is the best indication of the length of pull that can be exerted.
The stroke is also the best indication of the length of lift that can be exerted from the piston. It can be measured using a caliper. The caliper can be used to measure the diameter of the rod and the thickness of the piston. It can also be used to calculate the difference between the maximum extended length and the maximum retracted length. This gives you the maximum length in the retracted position.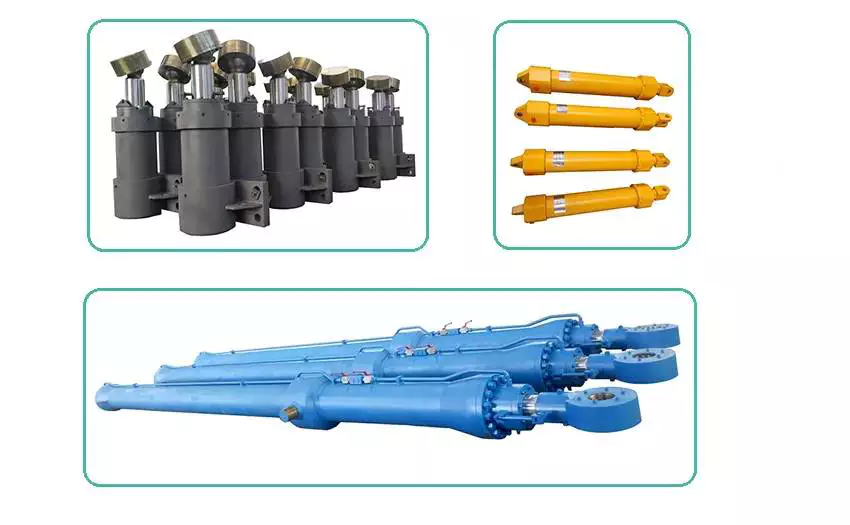 Materials used
Various materials are used in the manufacture of hydraulic cylinders. The materials have to be tough and durable enough to withstand the pressures of the hydraulic fluid. Besides, the materials must also be compatible with the hydraulic fluid. If the materials are not strong enough, the cylinder may not fully stroke.
Hydraulic cylinders are made of steel and other durable materials. They can be used in a variety of applications. They are used in manufacturing, construction, mining, and industrial technology. They can also be found in the aviation and aircraft industry. They have also been used in forestry.
Most hydraulic cylinders are made of 1018/1020 cold rolled steel. They are usually coated with Hard Chrome Plating to prevent corrosion. A variety of coatings are also available for cylinders.
In hydraulic systems, the fluid used is usually mineral oil or water glycol. Some cylinders also use fire resistant water glycol-based fluid. However, this type of fluid may still cause lubrication problems.
Another material used in hydraulic cylinders is stainless steel. These are generally inexpensive and easy to find. They are also environmentally friendly and work well with fuels and solvents. They are also durable in acidic environments.
Composite materials have also been used in the aerospace industry for years. They have also been used in high pressure vessels for CNG storage. They have a higher strength to weight ratio than steel. They have also been used in the automotive industry for many years.
The seal, piston, and steel ring work together to provide stability and control. They can also help ensure that the cylinder remains in place. These materials are also used for double-acting cylinders, which have ports on either side of the piston rod. The pressure on both sides of the piston rod helps control the movement of the cylinder.
Another type of cylinder is the tie rod style. This type of cylinder uses high-strength threaded steel tie rods to secure the cylinder. The tie rods stretch at high pressures, which allows the cylinder to function efficiently. The cylinders are commonly used in industrial factory applications.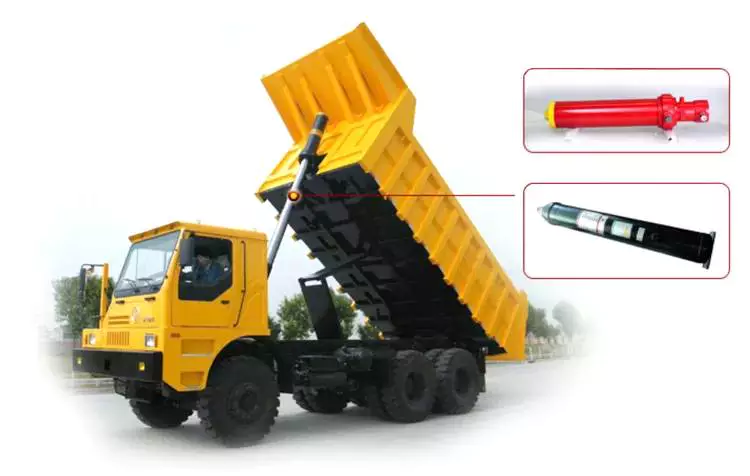 Seals
Choosing the right seals for hydraulic cylinders is crucial to the functioning of a hydraulic system. These seals are designed to protect the internal components of the cylinder from contamination and leakage. They are used in various industries, including construction, agriculture and industrial plants.
Hydraulic cylinder seals come in a variety of designs. They are used in both static and dynamic applications. They are also subjected to high temperatures and high pressures. Therefore, they must be made of the right material to withstand the tough conditions. The seals must also be able to resist the change of hydraulic fluid.
Hydraulic cylinder seals are made from materials such as PTFE, polyurethane and rubber. These materials provide a durable seal for cylinders. They are also resistant to abrasion and tearing.
Seals for hydraulic cylinders are categorized into static and dynamic designs. Static seals are typically found in round cross-sections. They are used between the piston and the cylinder pipe. They are also known as gland seals. These seals are usually attached to the cylinder pipe with a threaded connection. The gland seal usually includes a wiper ring that keeps the interior of the cylinder clean and free from contamination.
Hydraulic cylinder seals also must be able to withstand high temperatures and high pressures. They are used in a variety of applications, including logging equipment. The main sealing material for hydraulic cylinders is polyurethane.
Seals for hydraulic cylinders can be made from thermoplastic or elastomeric polymers. These materials combine the strength of plastic with the flexibility of rubber. Thermoplastic elastomers also have better elasticity, enabling them to maintain constant pressure for longer periods of time.
In dynamic sealing systems, low friction coefficients are a basic requirement. This is due to the need for maximum tightness in dynamic conditions. Seal materials must also be capable of forming a tight seal against irregular metal surfaces.
The seal material must also be able to expand rapidly to follow dimensional changes. This is important for high-pressure cylinders, as they may undergo deformation. It is also important to use a material that can withstand corrosion.




editor by czh 2023-03-24