Forklift Steering Hydraulic Cylinder
As one of the hydraulic cylinders manufacturers, suppliers, and exporters of mechanical products, We offer hydraulic cylinders and many other products.
Please get in touch with us for details.
Mail:[email protected]

Manufacturer supplier exporter of hydraulic cylinders.
Forklift Steering Hydraulic Cylinders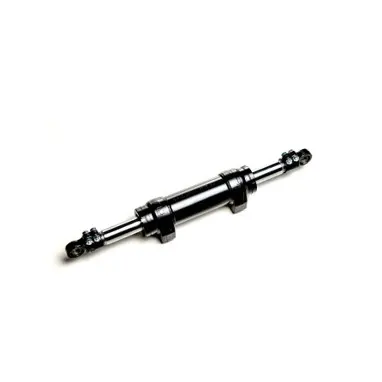 Forklift Steering Hydraulic Cylinders, the driving force behind precise steering control and enhanced maneuverability in forklift operations. These essential components play a crucial role in ensuring smooth and responsive steering, allowing operators to navigate tight spaces and handle heavy loads with ease.
The Forklift Steering Hydraulic Cylinders are compatible with a wide range of forklift models and brands, making them a versatile solution for diverse applications. Whether you operate in warehousing, logistics, manufacturing, or any other industry, these cylinders can be tailored to meet your specific requirements.
By upgrading your forklifts with these cylinders, you can significantly improve steering efficiency and productivity. Experience smoother turns, precise handling, and reduced operator fatigue, leading to faster and more efficient material handling operations.
Forklift Steering Hydraulic Cylinder Parameter:
| | | | | | | | | |
| --- | --- | --- | --- | --- | --- | --- | --- | --- |
| Cylinder Name | drawing number | bore diameter (D) | rod diameter (d) | stroke (S) | Installation distance (L) | working pressure | Interface dimensions (M) | weight |
| Steering cylinder | R960-224000-001 | Φ65 | Φ40 | 2*98 | 672 | 10.5MPa | 2-G1/4 | 15kg |
| | | | | | | | | |
| --- | --- | --- | --- | --- | --- | --- | --- | --- |
| Cylinder Name | drawing number | bore diameter (D) | rod diameter (d) | stroke (S) | Installation distance (L) | working pressure | Interface dimensions (M) | weight |
| Steering cylinder | A2A300-223000-000 | Φ80 | Φ50 | 2*103 | 652.2 | 10MPa | 2-M16*1.5 | 18kg |
| | | | | | | | | |
| --- | --- | --- | --- | --- | --- | --- | --- | --- |
| Cylinder Name | drawing number | bore diameter (D) | rod diameter (d) | stroke (S) | Installation distance (L) | working pressure | Interface dimensions (M) | weight |
| Steering cylinder | XF250-223000-500T | Φ80 | Φ50 | 2*94 | 654 | 16MPa | 2-M16*1.5 | 20kg |
Maintenance Guidelines Of Forklift Lifting Hydraulic Cylinder:
Regular Inspections: Perform routine inspections of the Hydraulic Cylinder to check for any signs of damage, wear, or leakage. Examine the rod, seals, and mounting points. Promptly address any issues to prevent further damage and maintain optimal performance.
Fluid Checks and Replacement: Regularly check the hydraulic fluid levels and quality. Ensure that the fluid is clean and free from contaminants. Follow the manufacturer's recommendations for fluid replacement intervals to maintain proper lubrication and system performance.
Seal Maintenance: Inspect the seals of the Hydraulic Cylinder for signs of wear, cracking, or leaking. Replace damaged seals promptly to prevent fluid leakage and ensure reliable operation.
Rod Maintenance: Keep the rod of the Hydraulic Cylinder clean and free from debris. Regularly wipe the rod and apply a suitable lubricant to minimize friction and extend the life of the seals.
System Pressure Checks: Periodically check the hydraulic system pressure to ensure it operates within the recommended range. Adjust the pressure if necessary, following the manufacturer's guidelines.
Capability & Capacity Of Factory:
(1) Assembly
We has a first-class independent research and development assembly platform. Forklift cylinder production workshop has 4 semi-automatic lifting cylinder assembly lines and 1 automatic tilt cylinder assembly line, with a designed annual production capacity of 1 million pieces; Special cylinder workshop is equipped with various specifications semi-automatic cleaning assembly system, designed annual production capacity of 200,000. Equipped with famous CNC machining equipment, machining center, high-precision cylinder processing special equipment, robot welding machine, automatic cleaning machine, automatic cylinder assembly machine, automatic painting production line. Existing key equipment more than 300 sets (sets). The optimal allocation and efficient use of equipment resources ensure the accuracy requirements of products and meet the high quality requirements of products.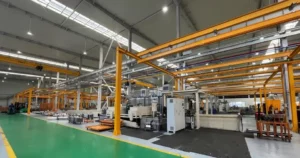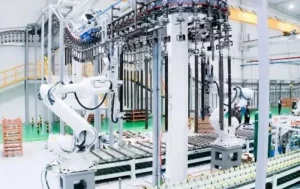 (2)Machining
The machining shop is equipped with customized inclined rail turning center, machining center, high-speed honing machine, welding robot and other related equipment, which can handle the processing of cylinder tubes with a maximum inner diameter of 400mm and a maximum length of 6 meters.


(3) Welding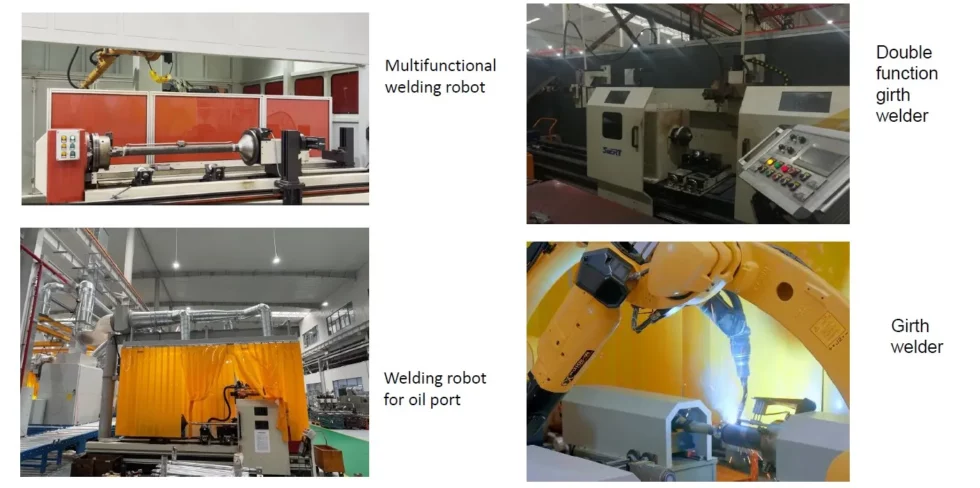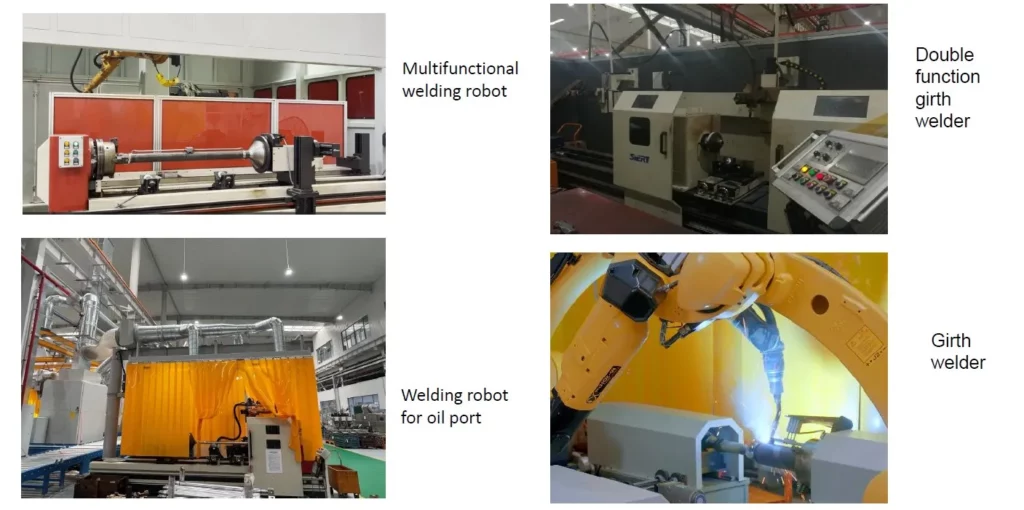 (4) Painting & coating
With small and medium-sized cylinder automatic water-based paint coating line, to achieve automatic robot loading and unloading and automatic spraying, the design capacity of 4000 pieces per shift;
We also have a semi-automatic paint production line for large cylinders, powered by a power chain, with a design capacity of 60 cases per shift.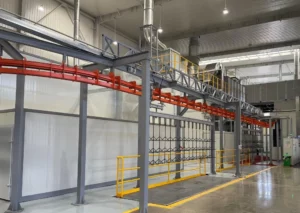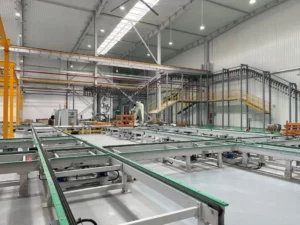 (5) Testing
We have first-class inspection facilities and test beds to ensure that the performance of the cylinder meets the requirements.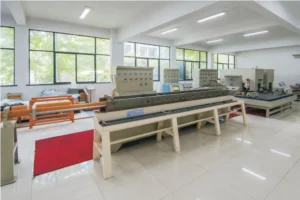 We are one of the best hydraulic cylinder manufacturers. We can offer wide hydraulic cylinder stock. We also provide corresponding agricultural gearboxes. We have exported our products to clients around the world and earned a good reputation because of our superior product quality and after-sales service. We warmly welcome customers both at home and abroad to contact us to negotiate business, exchange information, and cooperate with us!
Take a Tour of Our VR Factory:
Take a tour of our VR factory with the following
How Does Forklift Hydraulic Cylinder Work?
Hydraulic Cylinder Application: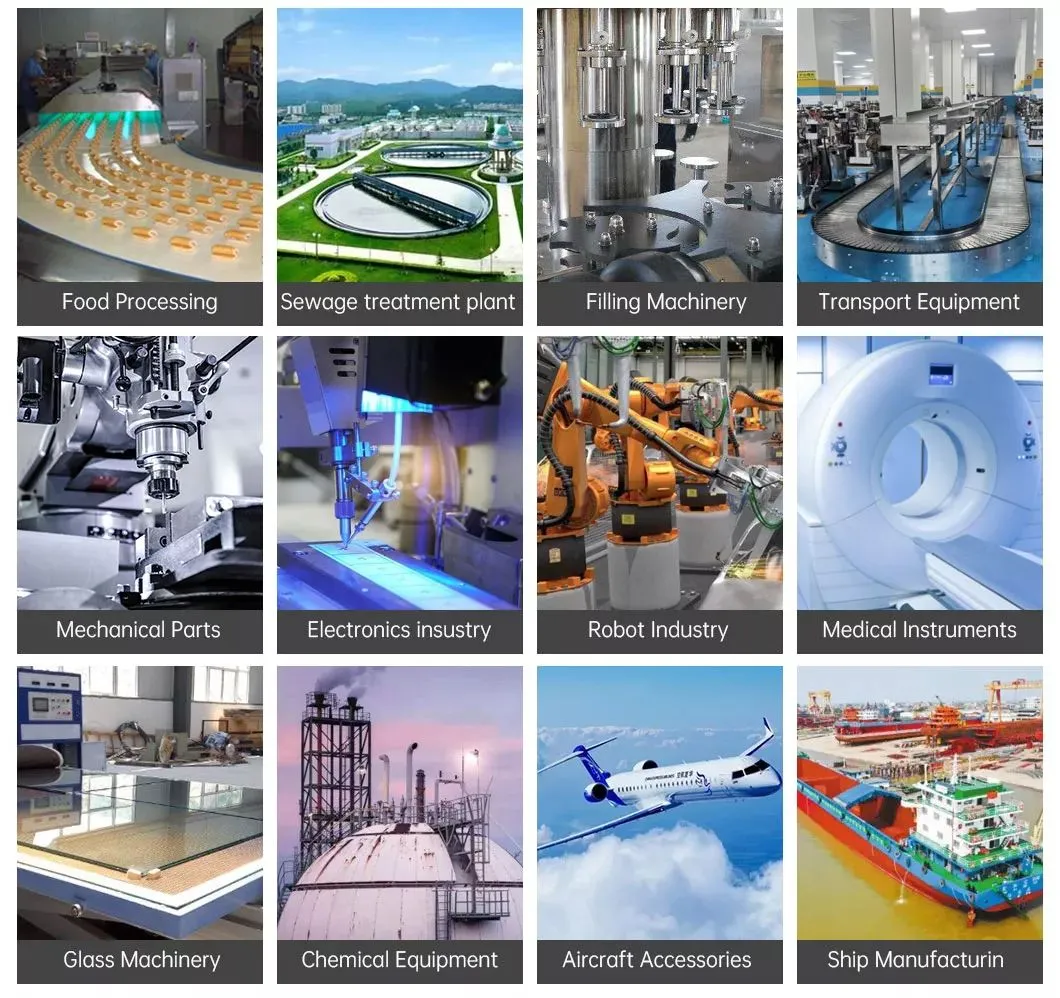 Two Basic Types And Working Principles Of Hydraulic Cylinder: